Better in the Fall: Lessons from Students About Change
Date posted
November 9, 2018
Autumn is a season that represents great change. As chlorophyll deconstructs in the leaves of our trees; we see the landscape anew. The mountains in my region alight with red, yellow and orange color. Fall is also the time when we await election results, bringing with them the possibility of great change. And this year, with the release of the RFP for the ACHE home office, we're on the precipice of transformation within our organization. As I've been reflecting upon this transition, I've discovered there is a lot to learn from students about what it's like to successfully navigate change. Here's what they've been teaching me:
Pure honesty is both shocking and refreshing. I have a student in my class that has a disability that limits his ability to filter, shade, or spin his comments. All of his responses are direct and there is little doubt about his stance on any issue we may be discussing. This student has emboldened his classmates however. Because he is so direct, he has given his classmates the freedom to be similarly straightforward and forthcoming. As we begin a transition to a new home office, I hope you will feel free to approach me and other ACHE leaders about the ideas you have for our organization. Give us honest feedback about what you think we do well, what needs to change, and how we can best serve your needs as members of this organization. As leaders in ACHE, we find that kind of feedback energizing.
Learning about yourself can be hard. This semester I'm working with first year students who have spent a lot of the semester challenging themselves. Some have discovered that their intended major isn't going to work for them. Some have had entrenched beliefs rattled. Some have discovered they loved something completely out of their comfort zone. And many are finding it overwhelming to define themselves outside of the confines of their nuclear families. Our organization will face similar challenges as we move through this new change process. We'll learn some difficult things about ourselves; we may redefine our mission; and we will certainly look for ways we can grow membership and appeal to higher educational professionals that have not previously looked to ACHE to fulfill their professional development needs. Dee Fink defines learning as change and significant learning as change that is sustained over time. We'll need to engage in a process in the coming months that encourages just this kind of sustained learning.
A little experience goes a long way. This summer I taught in a grant-funded bridge program for students of color. The program strives to give students a jumpstart on the first year of college. It also provides students with continued support throughout the first two years. We studied together for three hours each day for three weeks – we bonded. While my commitment to the work of the grant was complete at the conclusion of the course, I wanted to continue to spend time with these students and track their progress. I host dinner for these students once a month. During these meals, students in the program tell me about how much the summer program helped them be prepared for fall coursework, get to know the campus, and have a built-in support system. This small amount of experience has really helped them be better students. Similarly, ACHE past-presidents have agreed to help the organization through the home office transition. We are so lucky that so many past-presidents remain actively involved in the organization and care deeply about its success. With the leadership of the executive team and the experience of the council of past-presidents, I am quite sure that the organization will be stronger in years to come.
Abundant laughter is a really good thing. Each year at mid-term, I ask my students to tell me what we should start, stop, and continue doing in the course. This year several students said, "Continue laughing abundantly." For me, one of the joys of working with ACHE over the years has been the strong collegial relationships I have formed with colleagues from across the country. I have also appreciated that the organization, while taking seriously the important work of serving the higher education needs of adult and non-traditional students, has also been a place where we can laugh together and celebrate together. In a year of change, maintaining this sense of collegiality is more important than ever. I know we'll be laughing together a great deal as we move forward.
And finally, we're better together! Research about belongingness is becoming more and more pervasive in the literature about student success. I try to cultivate a sense of belonging in my classroom. I come early to class and mingle with students as they arrive. I ask students about writing they have done in class. I spend a little time every Friday just asking students about their lives. We play games together where they work in various groups and get to know one another. Part of the reason for this focus on belonging, is because navigating change is easier when you have a team of support. My students can navigate the changes they are experiencing in the first year because they have faculty who care about them, peer mentors who are devoted to them, and one another to lean on. As we navigate change in ACHE, it will be important to be able to count on one another. After the recent Newport conference, it is clear that I need ACHE. The organization helps me better serve my institution and my students. Each year I leave the autumn conference feeling refreshed, energized and ready to take on new challenges in the organizations. Because ACHE has a "better together" philosophy, we can all use this period of transition to make the organization stronger.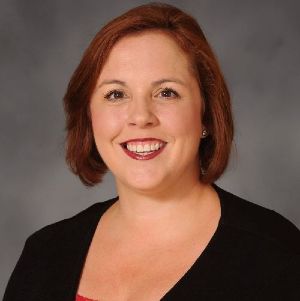 If we keep these principles in mind, I know that in October 2019, we'll be better next fall.


Amy Johnson
ACHE President Elect