2023 Business Partners
To access the full 2023 ACHE Business Partner Sponsorship Package Portfolio in PDF format, click here.
PARTNERSHIPS MATTER
Greetings to our ACHE Members and the Higher Education Community!

Welcome to the 2022-2023 Academic Year and to the 85th Anniversary of the Association for Continuing Higher Education (ACHE)! Yes, amazingly ACHE was founded in 1939 as the Association of University Evening Colleges (AUEC) and later transitioned into the Association for Continuing Higher Education in 1973. ACHE has become a dynamic network of diverse professionals who are dedicated to promoting excellence in continuing higher education.
As President of ACHE for 2022-2023, it is such an honor and privilege to thank each of you for your numerous contributions to this esteemed organization and to recognize the many, many leaders who have built such a strong foundation and guided ACHE successfully through the past 84 years. We are truly "standing on the shoulders of giants" (Newton, 1675) as we work together to build on the past accomplishments and lead ACHE into a successful future.
The mission of ACHE is as follows: "The Association for Continuing Higher Education is dedicated to promoting lifelong learning and excellence in continuing higher education. As an organization of colleges, universities, and individuals, we encourage professional development, research, and exchange of information for our members and continuing higher education as a means of enhancing and improving society." ACHE is led by highly dedicated officers and Board members who strive to serve the membership as we navigate the continually changing world of higher education.
During this 85th Anniversary year, ACHE is focused on the following presidential priorities and
plan of action, based on the theme of "Back to the Basics."
B – Build a Budget for Organizational Sustainability
A – Add Members and Business Partners
S – Simplify and Implement Strategic Plan
I – Increase Information and (I)Engagement
C– Celebrate 85th Anniversary at Conference in Charleston and Throughout the Year
S – Support Scholarship through JCHE/Other Scholarly Activities
Please join us in being actively engaged in our ACHE family by getting involved in one or more of tthe above priorities! ACHE is certainly a very welcoming "family" of continuing higher education professionals, and we want each of you to be a very integral member of our ACHE "family"!
One of the very best ways to be involved and engaged in ACHE is to attend and be a very active participant in our annual "family reunion"….. the annual ACHE Conference! This year the 85th Association for Continuing Higher Education Conference will be held in Charleston, S.C. We are eager to welcome all of you — our institutional, organizational, and professional members, along with retirees and students — as we all come together to focus on the conference theme of, "Leaders, Innovators, Change Agents: Continuing Higher Education's Role in Improving Access and Success.
We look so forward to seeing you in historic Charleston as we celebrate this historic year for ACHE!!! Mark your calendars for our annual "family reunion" in October and get involved in ACHE throughout the year as we celebrate the past and look forward to the future in celebration of our 85th Anniversary!
Sincerely,
Susan A. Elkins Ed.D.
2022-2023 President, Association for Continuing Higher Education
Chancellor, Palmetto College, University of South Carolina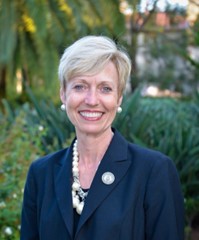 ---
ACHE welcomes the opportunity to partner with your organization.
---
Thank you to our 2023 Business Partners!
---