Back to Events
ACHE West Symposium 2023
Pasadena, CA
Monday, April 17, 2023
to Tuesday, April 18, 2023
Event Details
Charting the Course: Navigating and Advancing through Continuing Higher Education
As ACHE enters its historic 85th year, we invite you to the West Region Learning Symposium April 17-18, 2023 in Pasadena California. This event will bring together senior university leaders, key staff, and teams responsible for adult and continuing higher education. Whether you're new to continuing education and just learning the ropes, or a seasoned expert, join us as we share ways to navigate the changing landscape of continuing education. Please register prior to April 1, 2023.
---
Sessions
Session 1: Business of Continuing Education
This session is designed to provide an in-depth look into the business of Continuing Education, including the life cycle of CE programs, from lead to completion, and various ways to work with traditional campus and community partners. It will also cover topics such as program management, market segment reviews, budget management, and using technologies such as Customer Relationship Management and Student Information Systems.
Session 2: Strategizing in Continuing Education
This session provides strategies for continuing education success. It covers setting clear goals, understanding associated tasks, differentiating between 'who' and 'what' tasks, being aware of available resources, and utilizing tools, tips, and tricks to make the process easier. It also emphasizes the importance of balancing program management, student success, and creativity to ensure success in the years to come.
Session 3: Reinforcing Student Success and Retention in Continuing Education
This session will discuss how to track student progression, satisfaction, and engagement in order to measure the impact of a program. Additionally, it will explore how to create a customer-centric environment and provide helpful tools, tips, and tricks to make the learning process easier. It will also cover how to measure student success, create actionable targets, and provide a safe and inclusive environment for all students. The session will be highly interactive, with attendees encouraged to share their own stories of student success.

Panel Discussion
As the "non-traditional" college student becomes the new norm, Continuing Education is poised to become an integral part of the future of higher ed. How do we strategically rise to this challenge and meet the needs of our University, our workforce community, and our students? Join us for a panel discussion on how CE can "answer the call" from our communities and universities to build partnerships and collaborations.
Diversity, Equity, Inclusion and Belonging training
Provided by Dr. Alexandra Burrell, Ph.D, Associate Vice President and Chief Diversity, Equity, and Inclusion Officer at University of La Verne.
---
Schedule
Day 1
10:00 AM Registration
11:00 AM Welcome
11:30 AM Keynote
12:30 PM Lunch
1:30 PM Concurrent Session I
2:30 PM Concurrent Session II
3:30 PM Panel Discussion
4:30 PM Meet the Board
5:00 PM Dinner On Own
Day 2
9:00 AM Welcome
9:30 AM Concurrent Session III
10:30 AM Diversity, Equity, Inclusion & Belonging Training – Part I
12:30 PM Lunch
1:30 PM Diversity, Equity, Inclusion & Belonging Training – Part II
4:00 PM Closing
---
Parking
Onsite parking at Pacific Oaks College is free
At the discounted rate of $185, you can (re)connect with colleagues from across the region for engaging panel discussions, informative concurrent sessions, and a long-awaited chance to network with your peers.
---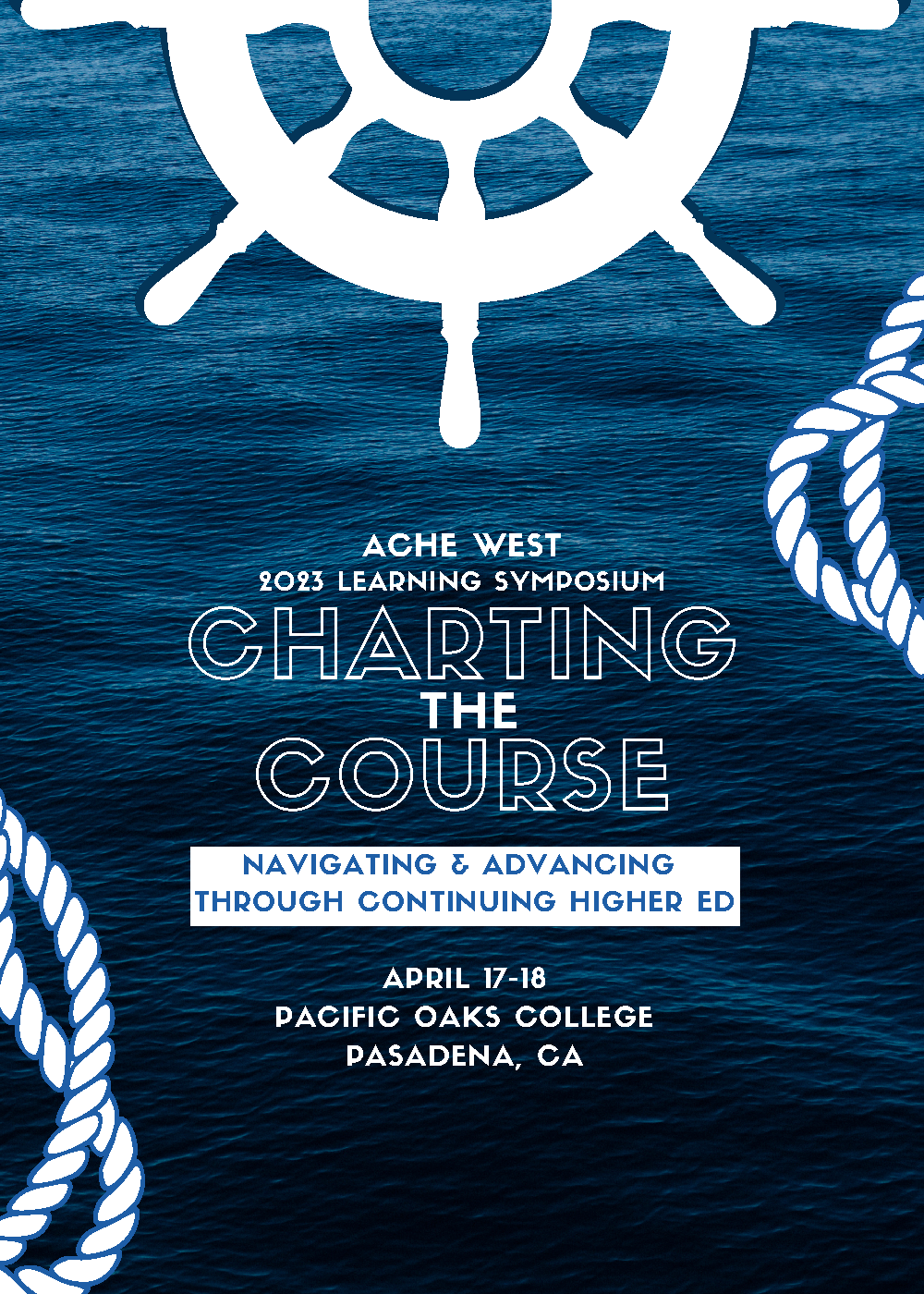 ---
Please contact ACHE West for any questions achewest@gmail.com.