Call for Proposals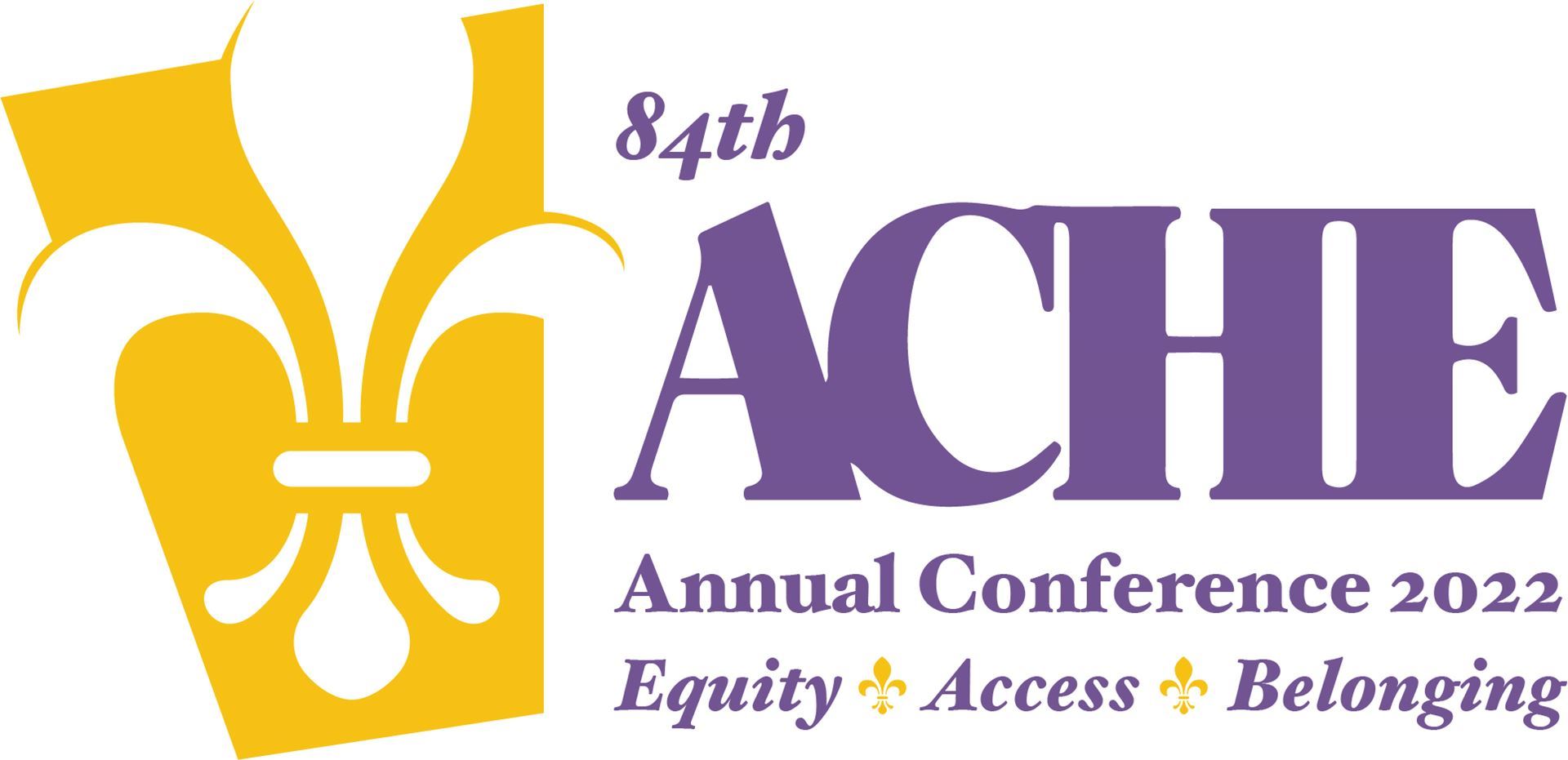 Conference Home Registration Schedule Hotel & Travel
---
The Call for Proposals is now closed.
---
Call for Proposals: ACHE 2022
October 24 - 26, 2022
New Orleans, LA
"Equity, Access & Belonging: Continuing Higher Education's Commitment Today, Tomorrow and into the Future"
---
We will finally be together again! After a long time apart, we will soon be together again in New Orleans, Louisiana. The Program and Conference planning committee for the 2022 ACHE Annual Conference & Meetings is excited to invite our domestic and international members, change agents, students, and leaders in the higher education community to submit proposals for conference sessions.
The conference theme for the ACHE 2022 conference, "Equity, Access & Belonging: Continuing Higher Education's Commitment Today, Tomorrow and into the Future", is an opportunity to have critical conversations, share best practices and discuss innovative and creative initiatives. The United States has struggled the last several years with multiple significant challenges that have impacted equity and access, in many areas, including, higher education. "The recent triple crisis experienced, specifically, the COVID-19 pandemic, the systemic racism in this country, and the racial inequities in higher education, has prompted a clarion call for more effective strategies that will result in more equitable outcomes for underrepresented populations by placing DEI at the core of our institutional practice" (Clayton, T., 2021).
This conference is an opportunity to come together as innovative change agents and collaborative partners to develop strategic initiatives that will positively impact continuing higher education. The global impact we can collectively have on our practice and our students, as a result of the knowledge shared and gained will manifest today, tomorrow and into the future.
Topics for proposals include, but are not limited to the following:
Innovative Change Agents: Tell us about the inventive and new programs, processes, departments, courses, assessments, services, etc. developed that cultivate an opportunity for underrepresented populations or provided pathways and access toward degree completion. What budget models, tuition strategies, grants, etc. are utilized to fund these programs to be sustainable today, tomorrow and into the future? How have your departments/institutions been change agents to foster an ecosystem that intentionally seeks to ensure all students feel a sense of belonging?
Collaborative Partners: Describe in your proposals best practices in establishing collaborative partnerships to assist with developing educational opportunities, roles and responsibilities of the department/institution and partnership, examples of successful program/institution and partnership collaboration outcomes, and creative collaborative partnerships that supported an underrepresented population with an opportunity to access learning. Collaborative partnerships are a critical stakeholder that can contribute toward the financial need of students today, tomorrow and into the future, providing a strong foundation for equity and access.
Strategic Initiatives: Share the exciting and strategic initiatives that intentionally focused on equity, access and belonging. These initiatives can range from implementation of new professional development for faculty, professional staff and/or students, creation of DEIB statements, utilizing assessment tools to analyze DEI & student success, Inclusive excellence: What is it and how it helps to achieve DEIB, technology that supports equity and access and collaboration across departments that supports student success, etc. Showcasing how departments/institutions are focusing on equity, access and belonging will enhance continuing education today, tomorrow and into the future and, more importantly, will result in an enhanced underrepresented student experience, learning outcomes and support student retention.
Themes to focus on:
Students Services
Professional Development
Workforce Development, Degree Completion, Certificates, Stackable Credentials & Non-Credit
PLA
Operations
The Student Experience
Clayton, T., 2021, Refocusing on Diversity, Equity, and Inclusion During the Pandemic and Beyond: Lessons from a Community of Practice
The call for proposals has now closed.